A famous 'lost' portrait of Charles Dickens has been rediscovered after 175 years, hidden in a trinket box at an auction in South Africa
The miniature portrait was painted by Margaret Gillies in 1843, when Dickens was just 31 and writing his timeless classic A Christmas Carol.
The incredible find was announced earlier this month by renowned art dealer Philip Mould, well known to UK viewers as an expert on the BBC TV show Fake or Fortune.
According to The Guardian, the portrait was found at a 2017 auction in South Africa's Kwazulu-Natal province, where a collector paid the equivalent of £27 for a collection of items that included an old recorder , a metal lobster, a brass plate and a small painting in a golden frame.
The paint was barely distinguishable under a thick layer of yellow mold, but something about the facial expression stood out and prevented the collector from simply throwing it away.
Instead, he began researching the portrait and eventually contacted Philip Mold & Company about his discovery.
"When the image appeared on my screen, I saw a very young, handsome Victorian gentleman staring at me with those wonderful, quite intense eyes," said gallery miniatures expert Emma Rutherford. "It really stopped me in my tracks."
It soon became clear that this was no ordinary Victorian miniature painting: it was a missing portrait of one of the most famous writers in literary history.
The portrait contrasts sharply with later and better-known photographic portraits of a much older Dickens, in which he appears with a large beard and receding hairline.
But as a young man he was regarded among social circles as exceptionally handsome, with one of his contemporaries declaring:
"There is something in his eyes at all times that in women we call bewitching; among men we hardly have a name for it… his complexion is extremely delicate… I wouldn't blame him if he was a little conceited with his hair.
Margaret Gillies originally painted Dickens's portrait for inclusion in the 1844 book A New Spirit of the Age, which featured essays on cultural stars of the time, including Mary Shelley and Alfred Tennyson.
At the time, Dickens had already made a name for himself with novels such as The Pickwick Papers, Oliver Twist, Nicholas Nickleby and The Old Curiosity Shop.
An engraving of the portrait was reproduced in the book, and the painting was exhibited at the Royal Academy of Arts in 1844 to great acclaim, but Gillies soon lost track of the tiny work of art and it disappeared without leaving of traces.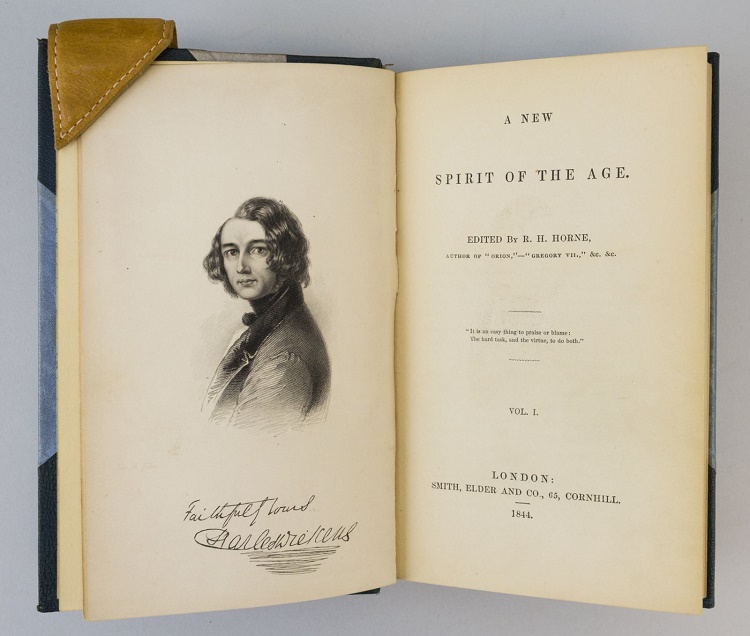 Experts only knew of the painting's existence from images reproduced from the original 1844 engraving, but its whereabouts remained a complete mystery and it was thought to be lost forever.
However, its rediscovery 175 years later and more than 8,000 miles away in South Africa makes some sense, as Gillies' adopted daughter's two brothers-in-law were the first emigrants to South Africa in the 1860s. .
"Every once in a while something comes through our doors that alone justifies a career dedicated to researching and representing historical art," said Philip Mould.
"When the little package finally arrived at our gallery on a spring Monday morning, it represented such a moment… It was an electrifying moment for all of us."
After undergoing a painstaking restoration, the miniature portrait is now on display at the Philip Mold & Company gallery in London, in an exhibition that runs until January 25.
The exhibition also marks the start of a fundraising campaign by the Charles Dickens Museum, which intends to purchase the painting for £180,000 and secure it for the nation.
"The discovery of this long-lost portrait of Charles Dickens by Margaret Gillies is truly thrilling," said Dr Cindy Sughrue, Director of the Charles Dickens Museum.
"The Charles Dickens Museum is the perfect place to provide him with a permanent home, and today we are issuing a call for contributions to cover the cost of acquiring the portrait for our permanent collection."