Content of the article
A new exhibit has taken over [email protected] that you might want to check out.
Content of the article
[email protected] has opened "We'll Build a Palace Upon the Ruins" by Jason Frizzell, an Alberta artist originally from Red Deer.
The exhibition features 60 small-scale sculptural works by Frizzell that follow a "thematic exploration of transition, identity, denial and discovery", according to the gallery.
"Rusting hulks of machinery and architecture of unknown origin and function sit alongside futuristic robots, spaceships and domesticated (or at least well-trained) dinosaurs," Frizzell said. "The pieces describe a place where the concepts of past, present and future can overlap and coexist."
Miniature scenes blend time periods, create imaginary environments, and sprinkle in pop culture references.
There are references to the Wizard of Oz, Mad Max, Planet of the Apes, The Flintstones and works by Stephen King. Frizzell uses references to create three-dimensional stories that engage and intrigue all audiences.
The gallery said visitors to the exhibit would be intrigued to see behind-the-scenes of Frizzell's designs in a partial recreation of his studio.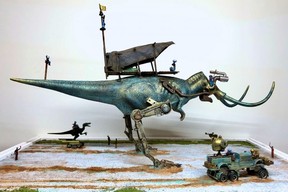 Unlike most art gallery exhibits, "We'll Build a Palace on Ruins" can be explored through a tactile sensory kit that visitors are encouraged to use. Visitors can also take a closer look at the works through larger iPad views to make viewing more accessible.
The exhibition is scheduled to remain at the gallery until August 20.
You can learn more about this exhibition and upcoming exhibitions at strathcona.ca/artgallery.
twitter.com/travisdosser