If you appreciate highly detailed artwork and visit iconic Hong Kong locations, Hong Kong: Through The Looking Glass is a miniature exhibit not to be missed.
As part of the 25th anniversary celebrations of the establishment of the Hong Kong Special Administrative Region, the exhibition is currently making its debut in Singapore after successful tours to various cities in China and Japan.
---
What to expect in Hong Kong: Through the Looking Glass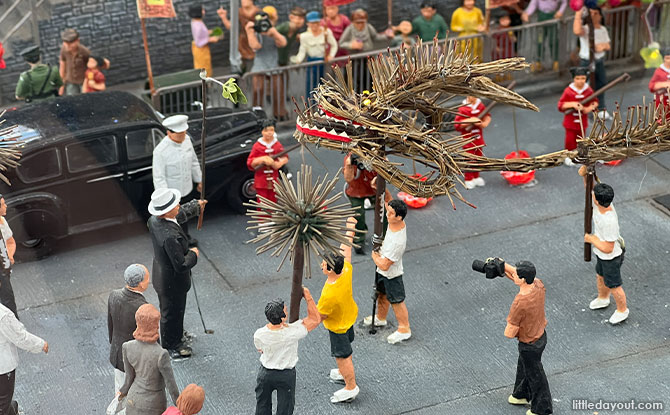 This exhibition promises an immersion in the unique world of miniature art. Reimagine Hong Kong on a different scale and experience the magic of 40 miniature sensations of old, new and beloved Hong Kong immortalized by the precision, patience and passion of talented Hong Kong artists.
---
READ: Sign up for a parent-child charity challenge and help make a difference
READ: Supermom Dawn Sim (@thatmomoffour) explains why she sent her 4 daughters to My First Skool
---
Many beautiful models have an incredible amount of detail and each set takes around three years to complete. Some of the models have moving parts such as changing traffic lights for models with moving roads and fans in the pattern of a typical Hong Kong cafe.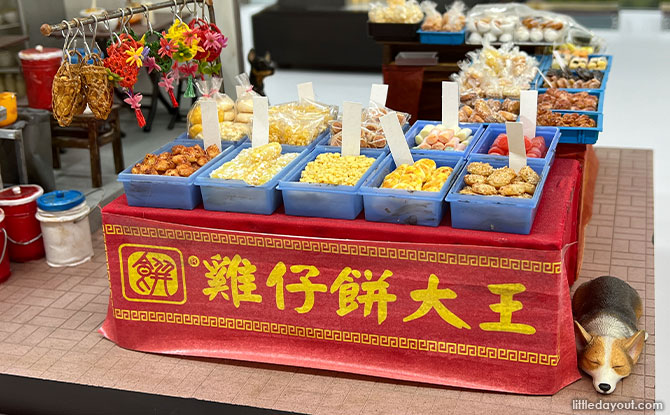 Besides the people, there are also a few animal models that appear in several exhibits, adding a nice touch of detail to the already detailed exhibits.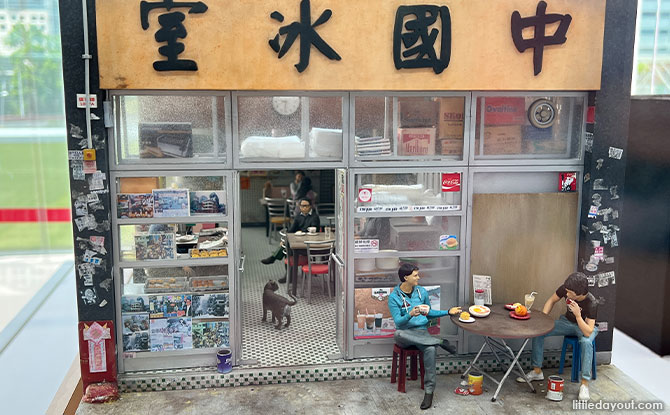 There are even a few Easter Eggs in various exhibits, such as a figure that looks like Bruce Lee.
Here are some of the model exhibits that caught our attention.
---
Must See Model Shows in Hong Kong: Through the Looking Glass
Cheung Chau Bun Festival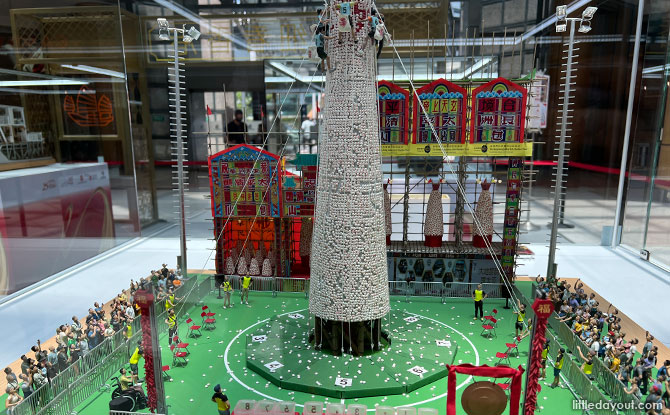 (Scale: 1:35)
Cheung Chau Island's liveliest event and the most unique festival celebrated in Hong Kong, the Cheung Chau Bun Festival is a unique celebration on the island. An iconic activity is when athletes race to the top of a 14-meter bamboo tower covered in lucky buns, collecting as many buns as possible to win.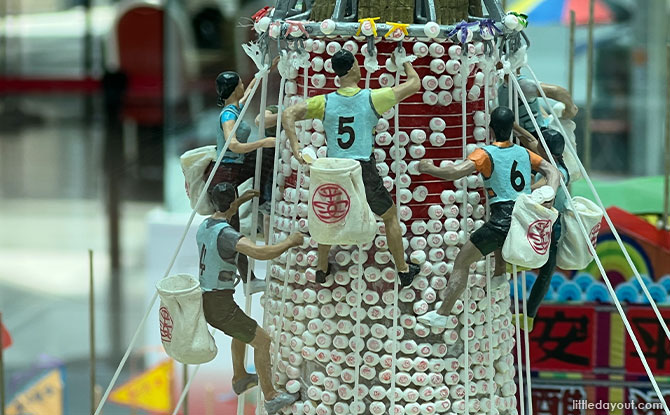 This mini model depicts a scene from the Bun Scrambling competition in 2012. The artist had thousands of mini buns, each hand-painted down to the detail of being "stamped" with the words "平安".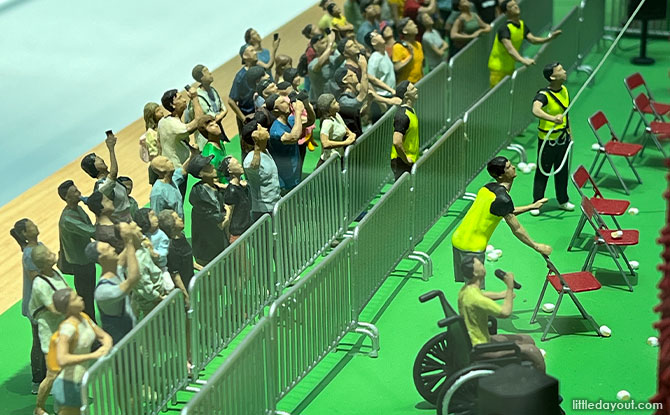 The exhibit also features a figure that depicts one of the Bun Scrambling competition champions Lai Chi Wai, who became wheelchair bound after an accident but returned to the scene to act as the competition's host.
Bamboo Theater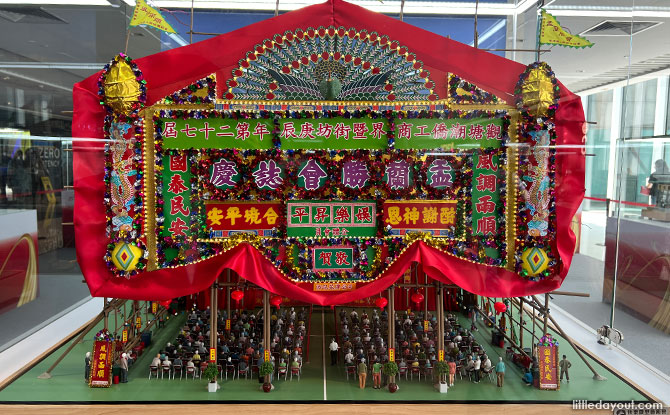 (Scale: 1:35)
Bamboo theaters are temporary Chinese opera performance venues erected in villages, towns, or soccer fields during festivals and celebrations such as the Yue Lan Festival. For this exhibition, the artist painted more than 1,000 light bulbs and handcrafted a large flower panel to highlight the lively craftsmanship atmosphere.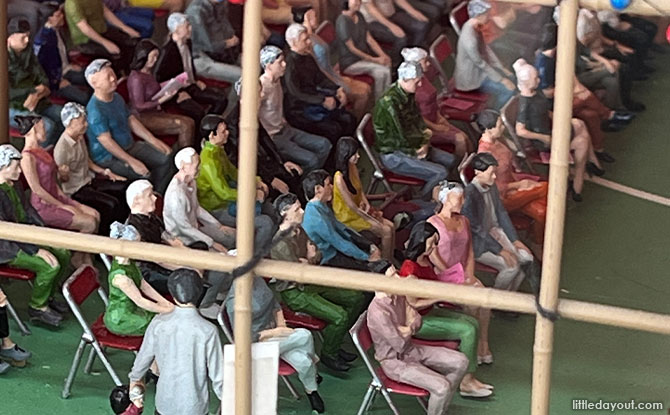 It's also worth noting that the facial expressions of each of the models in the crowd are different and each of the different actions such as some participants actively watching the performance while others are looking at their phones makes the scene even more realistic.
Yue Man Square
(Scale: 1:76)
The Yue Man Square exhibit is one of the highlights of the Hong Kong: Through The Looking Glass exhibition. It features the old days of Kwun Tong, an industrial heartland with its bright neon lights, heavy traffic and neighborhood shops.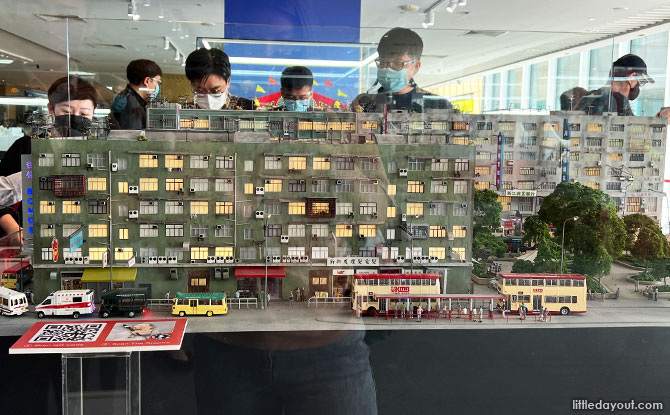 There are tons of details to admire, like a movie poster on the historic Bonds Theater and there are also QR codes around the model that visitors can scan to see animated scenes bring the exhibit to life.
snack street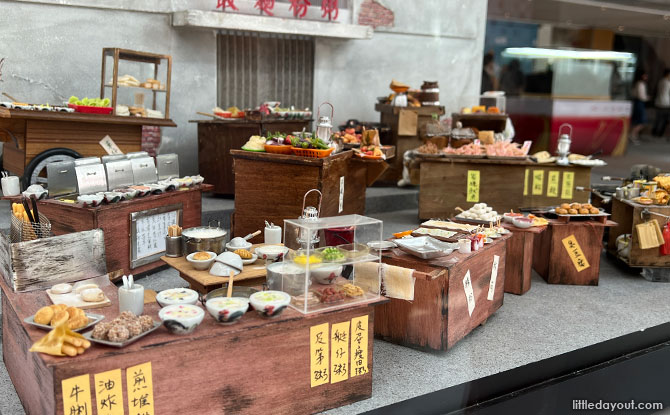 (1:12 scale)
You wouldn't really have visited Hong Kong without trying their delicious cuisine.
This exhibit features 13 food stalls selling egg waffles, curried fish balls, and baked yams. There are even mini signs with actual words written on them.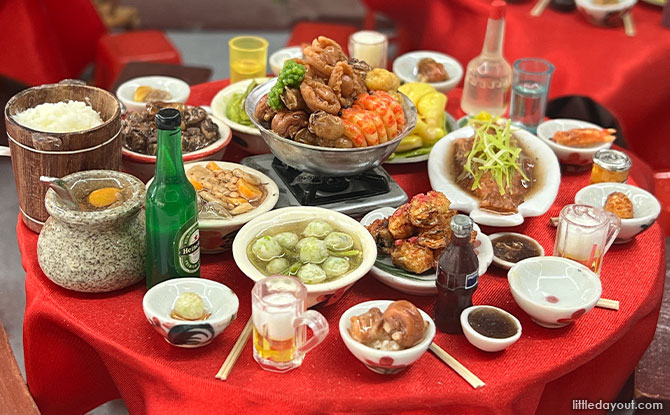 Other exhibits featuring food include the Big Bowl Feast and the Sai Kung Seafood Stall – to name a few.
Caged balconies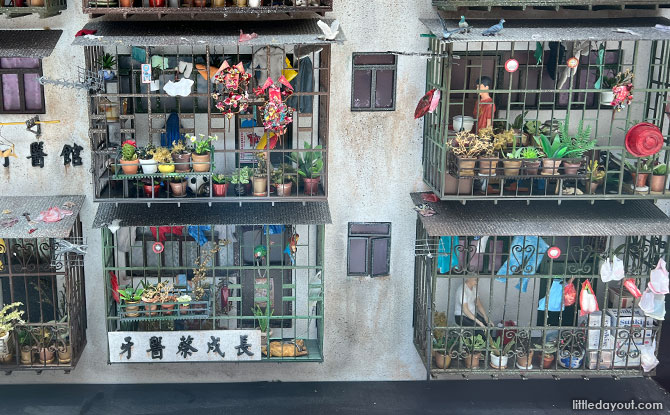 (Scale: 1:22.5)
Some of these exhibits also feature the unique and iconic architecture found in Hong Kong, such as unauthorized balconies in old apartment buildings. This was a space that residents would then use as additional space to grow plants, read newspapers, and dry clothes as part of their daily activities.
---
Hong Kong: Through the Looking Glass Miniatures Exhibition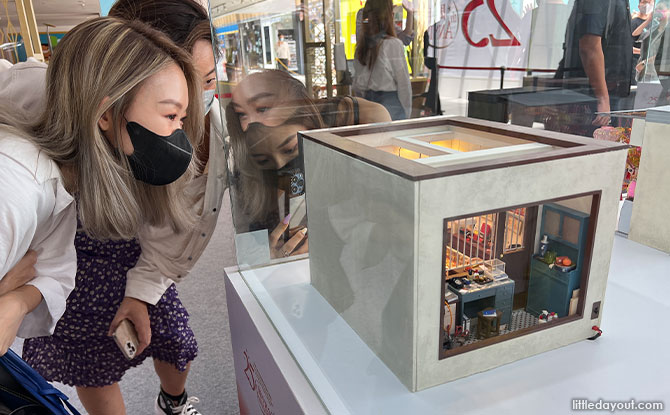 The miniature exhibition Hong Kong: Through the Looking Glass will take place from April 4, 2022 (1 p.m. to 9 p.m.) and from April 5 to 17, 2022 (10 a.m. to 9 p.m.). Admission to the exhibition is free. The exhibit is divided into two parts, Suntec City East Atrium Level 1 and Level 3, #03-342 (near the playground). Miniature workshops are open to the public on certain days.
For more details, visit the website here.